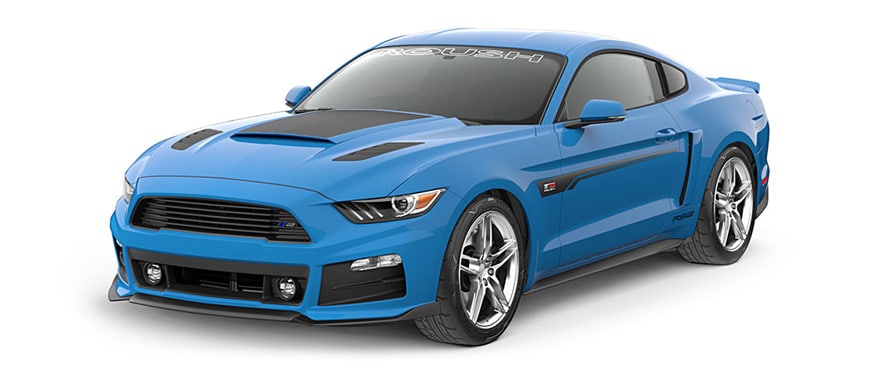 Mustang and Roush are two names in the auto industry that are synonymous with power and speed. Together, they provide a formidable foe for any other car out on the road. From their legacy partnership, Roush Mustangs keep evolving and delivering more of what their fans want and love.
2016 ROUSH GT MUSTANG
For the 2016 GT Mustang, Roush gave the car's legacy, its 5.0-liter V8, and gave it 435 horses. In order to support the power and speed that those improvements deserved, the 2016 Roush Stage 2 Mustang added on a roster of top-of-the-line enhancements. A new front fascia and rear wing, both inspired by the racing industry, as well as high flow upper and lower front grilles promise to channel the wind and its cooling properties in the ways that support the Mustang most effectively. The ultra high-performance Cooper RS3 tires provide the grip and stability needed to put the car through its paces.
PRIME THE EXHAUST YOUR WAY
As if these standard Roush Mustang features weren't enough, you can also add on some options that promise to considerably boost your experience. For example, the Active Performance Exhaust System allows the sound level of the exhaust to be easily changed to suit the driver's preferences.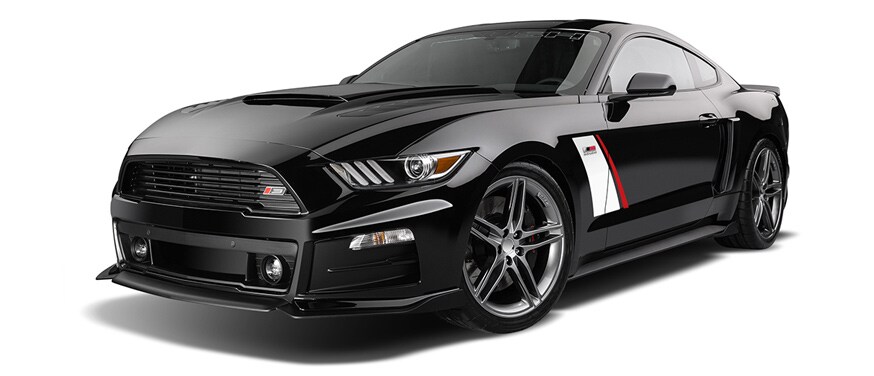 BE DISTINCTIVE IN LOOKS
Adding to the Roush Mustang's good looks are "Roush" graphics and badging. Other options that can set your Roush Mustang's looks apart from any other are hood and side graphics. Inside, choose the six-speed shifter ball for the ultimate in control and the reverse sensing system to keep your pony blemish free.
2016 ROUSH STAGE 3 MUSTANG
With its Stage 3 Performance system, Roush takes the Mustang to even greater heights. When you add their 2016 2.3-liter TVS supercharger to the Mustang's existing 5.0-liter V8, the result is a 670 horsepower force to be reckoned with. To say that this version of the Roush Mustang is the most powerful version to launch is a severe understatement.
STANDARD FEATURES ABOUND WITH THE ROUSH STAGE 3 MUSTANG
A Roush Quad-Tip exhaust comes as standard equipment on the Roush Stage 3 Mustang. You can also add the Roush Active Exhaust System as optional equipment. When coupled with the all-new aerodynamic body, the "R7", complete with eye-popping badging and graphics, the Roush Mustang shreds hairpin turns and serpentine twists as you master them effortlessly. That's because it comes fully equipped with the finest suspension system in the industry. It's a standard coilover suspension system that is also adjustable. An optional three-way adjustable competition tuned system is also available.
Not only is the Roush Mustang the perfect combination of power and handling, it looks and rides like the king of the road that it is.